The Time is Right for the iLASIK Procedure
IMAGINE LIFE WITHOUT CONTACTS AND GLASSES. You see clearly without even trying. When you awaken in the morning, you can see the alarm clock. There is no stress with broken glasses, scratchy contacts or time spent trying to remember where you put your glasses case or contact lens solution. The hassles – headaches from glasses and dry, itchy eyes from contacts – don't exist. With iLASIK, clear vision may be yours.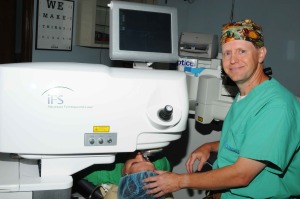 At Haik Humble Eye Center, our tradition of excellence in eye care spans over 30 years. Our practice offers the most advanced and trusted technology in laser vision correction; it's called the iLASIK procedure – a 100% blade-free, all-laser approach to LASIK that's truly customized just for you.
iLASIK is a comfortable, safe, and effective outpatient procedure that corrects a wide range of vision problems including near-sightedness, farsightedness, and astigmatism.
Now that the iLASIK procedure is available, there's really no reason to put off having laser vision correction.
You're Probably a Candidate
The majority of people who meet the age and general health requirements are in fact good candidates for the iLASIK procedure. There are some conditions that exclude certain patients, but if you meet the basic criteria below, there's a good chance you can still have the iLASIK procedure.
You are at least 21 years old
You are in good general health
You have had a stable vision prescription for at least one year
You have no existing eye disease
Please call us today at 318-325-2610 for a complimentary iLASIK consultation.